December First Friday
This Friday is December First Friday and this weekend is the Holiday Mountain Market.  It is the kick-off to the Nederland Holiday Season and for the second year in a row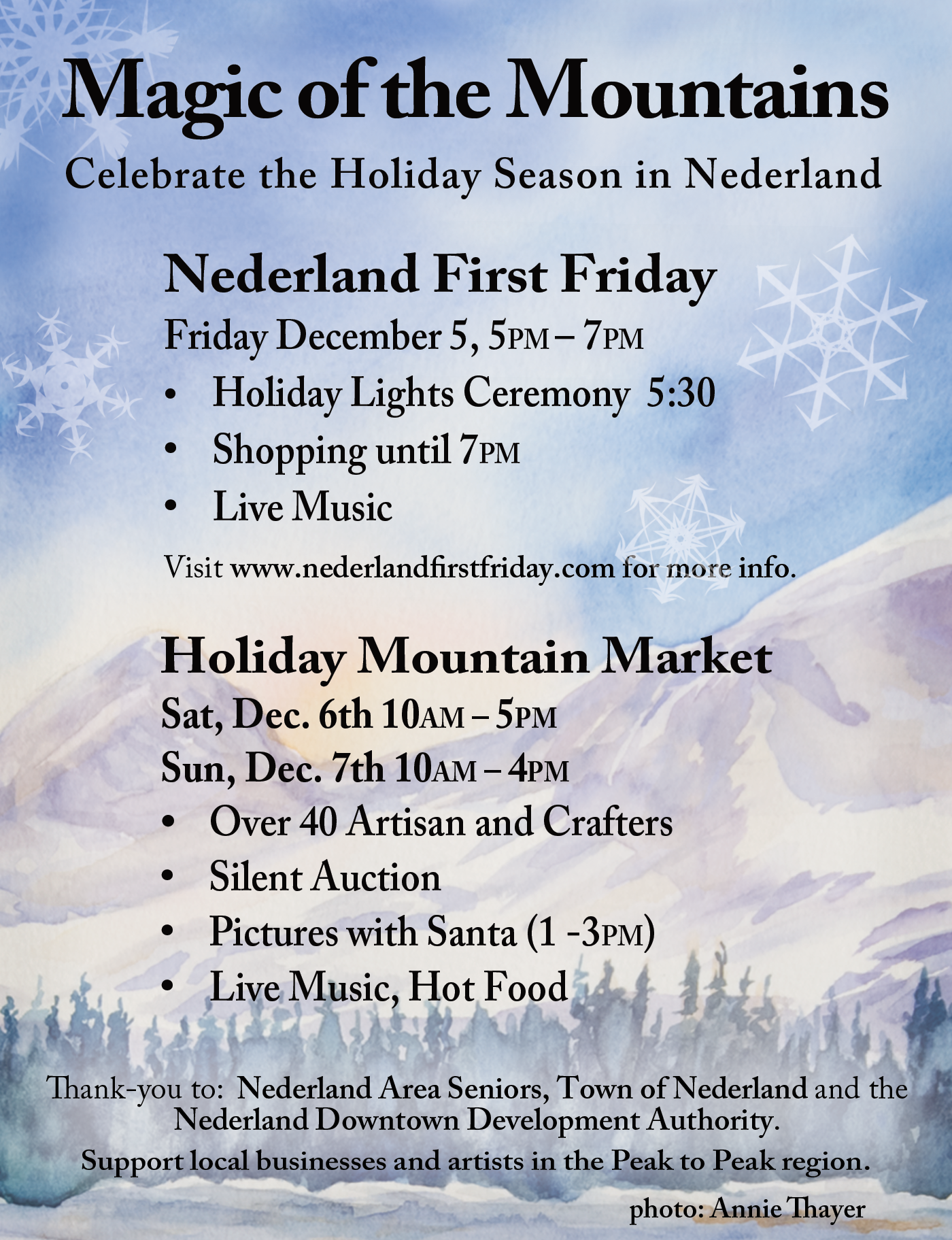 there will be a tree lighting ceremony at Town Hall on Friday (at 5:30).  There will be singing, lead by a couple of local Girl Scout troops.  Santa will make an appearance between 6 and 6:30 in the downtown area.  Boy Scouts will be collecting cans of food at the Carousel (donate a non-perishable, not-expired food item and get a free ride).
Currently the following businesses have something going on for that night; The Alpaca Store & More, Carousel of Happiness, Mountain Man Outdoor Store, Mountain People's Co-Op, Salto Coffee Works, The Train Cars Coffee and Yogurt Company, Nederland Visitor Center, Wild Mountain Smokehouse and Brewery, Wild Bear Mountain Ecology Center.  For a complete list of businesses participating with discounts on merchandise, and the art, food, or music specials go to the Nederland First Friday page. UPDATE: Peak Wine and Spirits, and Kathmandu Restaurant have added an event/specials.
Holiday Season Lights!!
The DDA has purchased (THANKS ACE HARDWARE!) strings of LED lights that are made available to businesses to help bring the holiday spirit to downtown. We've tried to get around to all the businesses but if you would like a roll or 2 please email Cindy. We would like them to be used in windows or outside first. If we have any left we can loan them for inside decorating.
And…
And please don't forget those who need a little extra help this season.  There are food and toy collections going on all throughout town.  Most, if not all donations, go to the Nederland Food Pantry who will be distributing to families here in the Nederland area later in December.