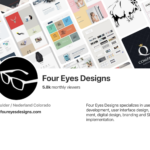 80 Big Springs Dr #202, Nederland, CO 80466
Four Eyes Designs specializes in user experience development, user interface design, web development, digital design, branding, marketing and SEO strategy implementation.
We believe it is necessary to fully understand the client or company's persona and mission, but more importantly how users engage and perceive the service and or product. We love knowing that what we do helps others, and understand that empathy is first and foremost when building a successful application and online presence. One that is intuitive to the users needs and instills trust between the customer and provider.