NDDA NEWS
Announcing the Peak to Peak Business Networking and Education series…
For businesses, including home-based, non-profit, service and artists, all along the Peak to Peak region. More Information.

The Nederland Board of Trustees have approved the Master Plan

The Nederland BOT approved the 2017 Master Plan at their 8/1 meeting.
At the May Nederland Planning Commission Meeting the Commissioners approved the Nederland Downtown Authority's 2017 Master Plan.
For information on the Nederland Downtown Development Authority please download the DDA FAQ
Below is a summary of the projects that are priorities of the NDDA and with the successful passage of a Debt Authorization in November these projects could be started as early as next year.  Download Summary
Parking, pedestrian, and traffic flow improvements Lakeview, Conger, Big Springs and HWY 119.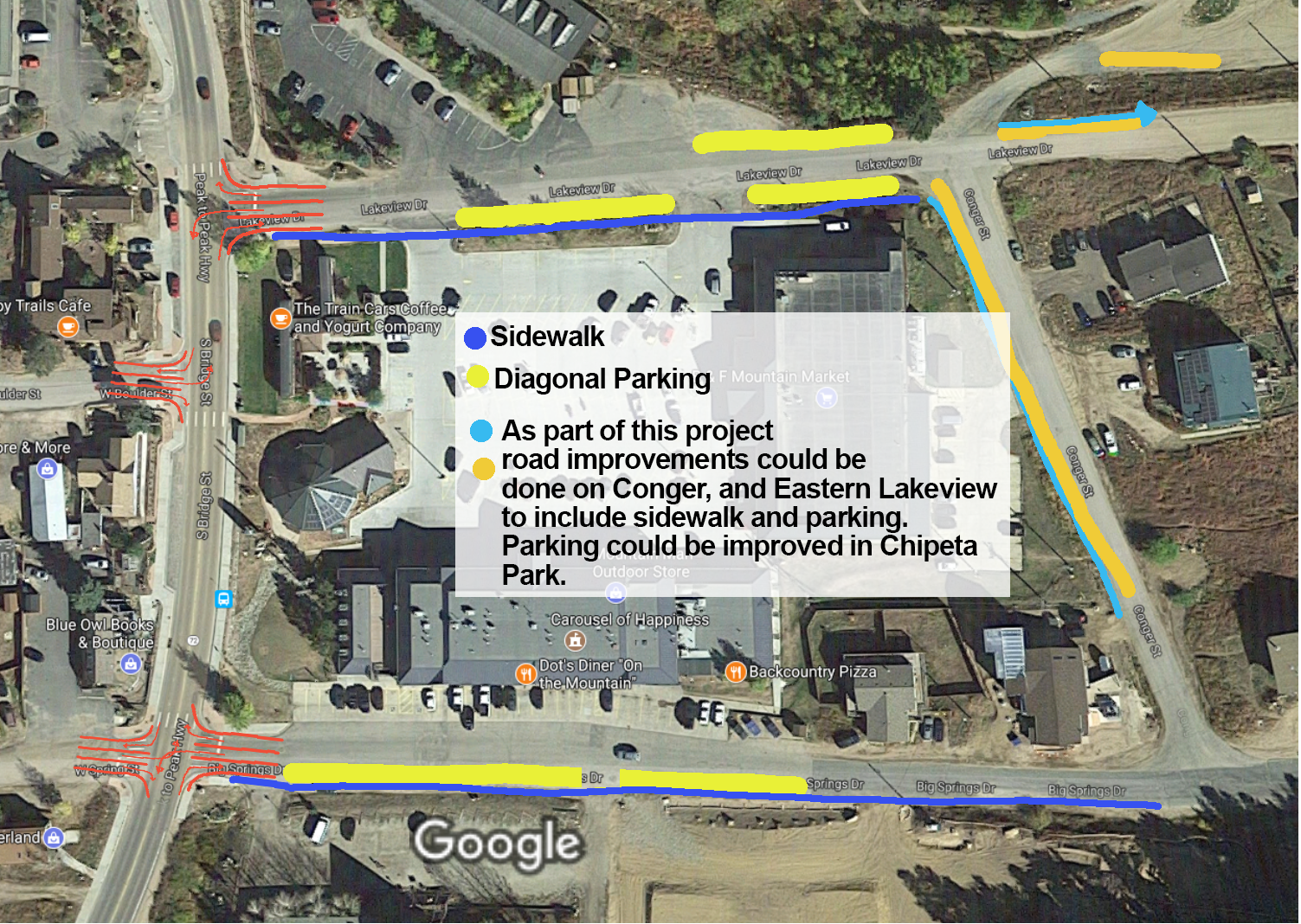 Improving the flow of traffic around the shopping center would help people navigate, whether on foot, bicycle or car quicker and safer. While working on improving flow we estimate we could increase parking spaces by about 30 just on the streets. Parking at Chipeta Park could also be improved and the capacity increased in an area that meets our goal of increasing parking outside of the downtown core.
Signage and Wayfinding  There are several parking areas that are underutilized and by improving signage and wayfinding not only will people know where parking areas are, they will see signs at the parking areas that will help them get to their destination. We will also work on the entrances to town to let visitor know early on what to expect and how to get there.
Events, Beautification, and Visitor Center  The NDDA is committed to supporting the events that both our residents and visitors continue to enjoy. We also want to help keep Nederland's downtown neat and clean for everyone. Another way to help businesses, events, and traffic is through the Visitor Center. We can make physical improvements and invest in the operations with a focus on information about the town and surrounding area for visitors and residents alike.
Sustainability  As the NDDA works to enhance business opportunities in the downtown area, we will keep preservation and restoration of the amazing environment in which we live at the heart of the organization's development philosophy.
Financing  This Master Plan would guide projects and programs, not only for the next few years, but with a look to the future use of the approximately $3 million in funding for which the NDDA is eligible between the years of 2017 and 2035. With careful management, the DDA could potentially leverage the $3 million into $9+ million through grants and matching fund opportunities with county, state and federal agencies.

UPCOMING EVENTS
NedFest
Date: August 25-27
Location:  Guercio Ball Field
The 19th Annual Nederland Music and Arts Festival is an annual three-day outdoor music and arts festival that hosts a wide range of music, from rock and roll to blues, bluegrass to folk and Americana, with a hint or two of jazz. Onsite camping is available next to the Barker Reservoir and NedFest is very kid friendly, with kids 12 and under free, a kids' tent and activities, and a special teen price too. Artists and craft vendors ring the field. Colorado microbrews and mead are on tap and we always have a variety of food vendors.
Ned*Ned 5K, 10K and Half Marathon
Date:  Saturday, September 9
Half K starts at 8am
5K and 10K start at 10am
Location: Starts at Teens, Inc. located at 151 East First Street in Nederland
Beginning at TEENS, Inc., embark on your 5k, 10k, and Half Marathon journey by winding through Old Town Nederland, the epitome of Colorado mountain towns. The 1/2 marathon will take you on dirt roads and single track trails as you challenge yourself to be "a little more extreme" at an elevation of 8,300'. Bragging rights indeed! Immerse yourself in the history and beauty of the area as you return to TEENS, Inc. running down First St. as community members cheer you on. This 30+ year race tradition is family friendly and you are welcome to run with your dog on leash in the 5k and 10k. Costumes are encouraged. And don't miss the post race gathering!  For more information, please visit their website at: www.nednedrun.com
ONGOING
Wednesday Farm Market-Hosted by Salto Coffee Works
Date:  Every Wednesday into November 4pm-7pm
Location:  Salto Coffee Works
Featuring two Boulder county farms, you will find bounties of fresh produce. Please see Salto's Facebook page for more information: Link
Nederland Farmer's Market
Dates: Market will run every month-May through October from 10am-2pm
Location: Gurercio Field
Sunday May 28
Sunday June 11
Sunday August 13
Sunday September 10
Sunday October 8

Please see their website for more information: http://www.nederlandcommunitycenter.org/wp-content/uploads/Farmers-Market-flyer.pdf
LOCAL ATTRACTIONS
Nederland Mining Museum
Open May 27-October 29
Friday: 11 a.m. – 5 p.m.
Saturday: 11 a.m. – 5 p.m.
Sunday: 11 a.m. – 5 p.m.
Admission is free!  Visit the Nederland Mining Museum and get a glimpse into the world of hard rock mining days in Boulder County during the late 19th and early 20th centuries. Learn about the lives of the miners of yesteryear! Pleasevisit their website for more information.  https://www.bouldercounty.org/open-space/education/museums/nederland-mining-museum/
Gillaspie House Museum
Location: 2 North Bridge Street
Hours:  Saturdays and Sundays from 12-4
Built in 1907 this house displays clothing, accessories, and furnishings found in typical early Nederland homes.
Please visit their Facebook page for more information:
https://www.facebook.com/GillaspieHouseMuseum
Nederland Community Library
Come and visit this state of the art building with many programs for adults and children.  Please see their website for more information
http://nederland.colibraries.org/
Eldora Mountain Resort
Eldora is the closest ski area to the Denver and Boulder area.  The Ski-n-Ride bus (Route N) , operated by RTD, runs between Boulder and the ski area several times daily during the ski season.  Please visit their website for more information: https://www.eldora.com/

The Carousel of Happiness
The Carousel of Happiness is restored 1910 Looff carousel, turning to the music of a 1913 Wurlitzer band organ.
Please visit their website for more information: http://www.carouselofhappiness.org/

Nederland Ice and Racquet Park
The rink is home to three tennis courts in the warm seasons before it is transformed into an Olympic-sized ice rink in the winter. This rink is the largest outdoor ice rink in Colorado.  Please visit their website for more information:
http://nedrink.org/

Nathan Lazarus Skate Park
The $500,000 facility was funded in large part through donations and grants from organizations such as Great Outdoors Colorado, The Denver Foundation, Family Foundation, and the Tony Hawk Foundation.  Please see their
website for more information: http://www.nathanlazarusskatepark.com/

Ongoing – Music and Events
Pioneer Inn
Please click on the link to see their Facebook page for information on upcoming music
https://www.facebook.com/Pioneerinnnederland?fref=ts
The Very Nice Brewing Company
Please click on the link to see see their Facebook page for upcoming music
https://www.facebook.com/The-Very-Nice-Brewing-Company-302979766406555/timeline/
Salto Coffee Works
Please click on the link to see their website for upcoming music and events
http://saltocoffeeworks.com/
The Caribou Room
Please click on the link to see their website for upcoming music
http://www.thecaribouroom.com/new-page/
Blue Owl Books
Please click on the link to see their website for upcoming music and events
http://www.blueowlbooks.com/#blueowlbooks
Rocky Mountain Oyster Bar
Please click on the link to see their Facebook page for upcoming music
https://www.facebook.com/Rocky-Mountain-Oyster-Bar-1187862357905527/?fref=nf