NDDA NEWS
DDA Board Seat Open
The NDDA board of directors will have an open board seat in January 2018. The position will finish a term that expires in 2020 and must be filled by a property owner in the NDDA District. (See map and qualifications) Download an application or pick one up at Town Hall. If you have any questions, please feel free to contact Susan Schneider.  Applications are due at Nederland Town Hall, January 15, 2018, by 5pm.
Peak to Peak Businesses & Organizations
Download the Colorado Tourism Office presentation here.
Questions?
peak2peakbusinessgroup@gmail.com
http://www.nederlanddowntown.org/peak-to-peak-businesses/
Nederland Downtown Development Authority November 7, 2017 Special Election
Thanks to all the people who worked so hard on the Nederland Downtown Development Authority's special election where the debt authorization was approved 54 yes votes to 10 no votes.  Those people would include the NDDA board members, Susan Schneider, Brent Tregaskis, Peter Marshall, Amanda Kneer, Claudia Schauffler and Katrina Harms as well as the town staff, election judges, the election official  Micki Mills and NDDA secretary Cindy Downing. Special thanks to Town Trustee Julie Gustafson, and property owners Ron Mitchell and Mark Stringfellow, who campaigned for this election, contributing their time and energy to provide information to voters and help voters with the process and paperwork.  Most of all, thanks to the people who voted.  Whether you voted yes or no, thank you for participating in the process.  We hope everyone will want to stay involved, provide feedback about the needs of the business community and maybe even attend a NDDA meeting.  The meetings are held at the Community Center at 6:30 on the 3rd Wednesday of each month and are open to the public.
     More Information and documents from the 2017 Special Election …
UPCOMING EVENTS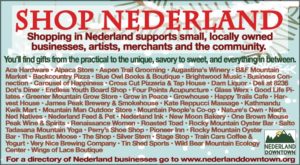 LOCAL ATTRACTIONS
Nederland Mining Museum
Open May 27-October 29
Friday: 11 a.m. – 5 p.m.
Saturday: 11 a.m. – 5 p.m.
Sunday: 11 a.m. – 5 p.m.
Admission is free!  Visit the Nederland Mining Museum and get a glimpse into the world of hard rock mining days in Boulder County during the late 19th and early 20th centuries. Learn about the lives of the miners of yesteryear! Pleasevisit their website for more information.  https://www.bouldercounty.org/open-space/education/museums/nederland-mining-museum/
Gillaspie House Museum
Location: 2 North Bridge Street
Hours:  Saturdays and Sundays from 12-4
Built in 1907 this house displays clothing, accessories, and furnishings found in typical early Nederland homes.
Please visit their Facebook page for more information:
https://www.facebook.com/GillaspieHouseMuseum
Nederland Community Library
Come and visit this state of the art building with many programs for adults and children.  Please see their website for more information
http://nederland.colibraries.org/
Eldora Mountain Resort
Eldora is the closest ski area to the Denver and Boulder area.  The Ski-n-Ride bus (Route N) , operated by RTD, runs between Boulder and the ski area several times daily during the ski season.  Please visit their website for more information: https://www.eldora.com/

The Carousel of Happiness
The Carousel of Happiness is restored 1910 Looff carousel, turning to the music of a 1913 Wurlitzer band organ.
Please visit their website for more information: http://www.carouselofhappiness.org/

Nederland Ice and Racquet Park
The rink is home to three tennis courts in the warm seasons before it is transformed into an Olympic-sized ice rink in the winter. This rink is the largest outdoor ice rink in Colorado.  Please visit their website for more information:
http://nedrink.org/

Nathan Lazarus Skate Park
The $500,000 facility was funded in large part through donations and grants from organizations such as Great Outdoors Colorado, The Denver Foundation, Family Foundation, and the Tony Hawk Foundation.  Please see their
website for more information: http://www.nathanlazarusskatepark.com/

Ongoing – Music and Events
Pioneer Inn
Please click on the link to see their Facebook page for information on upcoming music
https://www.facebook.com/Pioneerinnnederland?fref=ts
The Very Nice Brewing Company
Please click on the link to see see their Facebook page for upcoming music
https://www.facebook.com/The-Very-Nice-Brewing-Company-302979766406555/timeline/
Salto Coffee Works
Please click on the link to see their website for upcoming music and events
http://saltocoffeeworks.com/
The Caribou Room
Please click on the link to see their website for upcoming music
http://www.thecaribouroom.com/new-page/
Blue Owl Books
Please click on the link to see their website for upcoming music and events
http://www.blueowlbooks.com/#blueowlbooks
Rocky Mountain Oyster Bar
Please click on the link to see their Facebook page for upcoming music
https://www.facebook.com/Rocky-Mountain-Oyster-Bar-1187862357905527/?fref=nf