The Nederland Downtown Development Authority will hold an election on November 5th asking area business owners and land owners in the NDDA district to allow them to continue improvement projects in Nederland!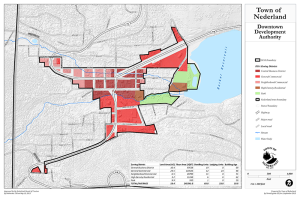 A vote for this Ballot Issue will NOT increase taxes. Money for DDA projects comes from TIF Funding, which predicts property value increases over time (historically proven) and borrows against them. This allows for improvements and programs focused on downtown. Since improvements further increase property values, it becomes an evolving payback system that is incredibly effective. Improvements also usually lead to more sales tax revenue that will benefit all of Nederland.

Approving the Ballot Issue is NOT a blank check for the Nederland Downtown Development Authority (NDDA). Each project is carefully evaluated, and brought to the townsfolk, property owners and Nederland Board of Trustees for review.  The Nederland Board of Trustees must approve all spending by the DDA.
Approving this Ballot Issue IS required for the NDDA to continue its work past 12/31/2019.
The NDDA is asking for approval from commercial property and business owners for authorization to pursue carefully considered infrastructure improvement and economic development programs in downtown Nederland.

Election Specific Information: Ballot Language, Financials, Forms, How and Where to Vote, Election Contact Information
DDA Election FAQ: Election Information
Sample of Designation of Elector Form by Owner of Real Property
Sample Designation of Elector Form by Holder with Leasehold Interest

Here are some examples of projects that the DDA is currently working on:
Lakeview and Big Springs intersection project

Additional parking on Big Springs Dr., Lakeview Dr., and Conger St.

First Street Pedestrian/ADA walkability, loading zone, and parking improvements

Loans, grants, and rebate programs

Event Support

Signage and Wayfinding

Beautification (public art installations, native planting and landscaping)
These projects aim to address the sources of frustration for local residents, such as parking, intersection traffic, and lack of clear signage, including parking signage.
We are asking for your support for this debt authorization.   Voting YES for this Ballot Issue is required for the DDA to continue its work past 12/31/2019.
We also ask you to communicate with the NDDA to ensure that projects that you are most passionate about are being addressed. The NDDA is committed to working on behalf of the talented, creative people who live and work in Nederland, but we need your input and a YES vote on this Ballot Initiative. 
Important NDDA Documents: